This summer ended up a lot different than planned. We started out in May on our Great Loop Adventure. We enjoyed two fantastic months of cruising from Rock Hall, MD, to Burlington, VT, before a sporting injury, a subsequent infection, and then a serious medical complication changed our priorities.
After three "post-hospital-discharge" medical appointments (related to Pete's third inpatient stay), two home health visits, and two physical therapy treatments, we were finally cleared for travel. We booked the first available "First-Class Non-Stop" flight to Sacramento. United Airlines offered an evening flight, out of Newark, New Jersey. This is where I originally rented the car so Enterprise was pleased to see their car returned. It wasn't cheap, but we felt we deserved First Class treatment at this point!
One benefit to our delays was that Pete was no longer required to have full left leg extension. He was now allowed up to 90 degrees of flexion, making air travel a lot easier. Still, we needed to take advantage of wheelchair service from curb to gate. I was able to drop Pete off at the curb, with crutches and one backpack (well under his 30 pound weight restriction) to hobble into the building to locate an attendant and a wheelchair.
I drove to Car Rental Returns, deposited our faithful Ford Edge, and took the tram back to Terminal C. (Of course, Terminal C was the one farthest away from Car Rentals.) I greeted Pete in his wheelchair and as I pushed him, he pushed our new large suitcase, to the counter to get our boarding passes. (We had recently sent two boxes of belongings home to lighten our load, however we needed a new suitcase to accommodate medical supplies given to us upon hospital discharge.)
Pete noticed one thing missing, the backpack that carried our electronics. "Aaack!" I left one very valuable item in the rental car! Immediately after obtaining our boarding passes, I raced back to the Rental Car Returns area to retrieve the backpack with our Apple™ products, Verizon MiFi™, the extra battery and their charging cables. My car had already been driven to the service lot! It took some time, but my backpack was retrieved, intact. As I boarded the tram back to Terminal C, Pete contacted me to say that he would rely on the wheelchair attendant to get him through security and to the gate ahead of me. I caught up with him just as our plane was initiating boarding. I am so glad that we built in the extra time at the airport! We settled into our plush Third Row seats and for the next six hours, enjoyed the luxury of First Class.
In Sacramento, our wheelchair attendant couldn't have been nicer! He helped us get our suitcase and he assisted us to our vehicle. Our friends, Tim and Sue, had earlier in the day, deposited our car at the airport. All we had to do was follow Tim's instructions to locate her. Not so easy when fatigue sets in. We searched the parking structure before realizing that the hourly lot was attached to the other Terminal. As I said, our wheelchair attendant went above and beyond.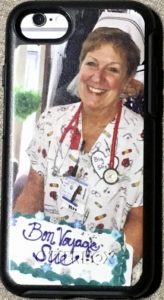 Yet, there was still one thing missing. I could not find my cell phone. "Aaack!" Did I leave it on the plane? As soon as we got home, Pete went straight to bed and I got online to complete a "Missing Items Report" with United Airlines. Naturally, I feared the worst, and after my earlier mishap, maybe I deserved to have some bad luck. I received a call from the United Baggage Clerk later that morning stating that my phone had been located. (Thank you, God!) It would be available for pick up at the United baggage claim office. I had two serious "senior moments" in the span of 8 hours. I was so worried about Pete that I wasn't thinking straight. While I take my responsibilities seriously, maybe it's time for Ginkgo Biloba!
We've been home now for two weeks. Pete has connected with his primary care physician and his new "gut" surgeon. Finding an orthopedist has proven more challenging than we had expected. He is continuing the physical therapy exercises prescribed by Dr. O'Connor and he's getting around quite well. He can even go short distances without his crutches! He has also connected with many friends who have been steady supporters in thoughts and deeds.
* Shortly before our arrival home, Tim, Bryce and Matt spent a day at our house to deliver a new recliner, do yard work, reposition our "stored" fishing boat and pre-position all of Pete's woodworking tools in his workshop.
*Rex has "exercised" the airplane and has been the liaison with the airplane mechanic, ensuring that the Cessna annual overhaul got done.
*James, next door, has been keeping a watchful eye on our home. We are indeed fortunate to have these (and other) thoughtful and reliable friends.
*Two Placer County Search and Rescue comrades, Katy and Kyoji, have visited, bringing entertainment (Katy's books) and restorative energy food (Kyoji's traditional rice balls), and they have both lifted our spirits.
After unpacking and catching up on sleep, I was eager to connect with family. Kim enjoyed an extended Labor Day weekend, with the requisite stops at the Humane Society Used Book Store and the nail spa. She found a book and several music CDs. Granddaughter Azalyah and I had a play date that included an overnight visit. We walked the Todd Valley Pond Loop where she discovered wild blackberries, and some small wild animals (lizards, birds and such). Since our last visit she has become very talkative! Oh, and diapers are a thing of the past!
What would summer in California be without a wildfire? Just as I was driving Azalyah home with me, Pete notified me of a wildfire in our canyon and to "hold my position" until road closures could be confirmed. About an hour later I learned that the closures did not affect us, but they did affect part of our community to the west and south. I cautiously drove home. As I passed the Fire Command Post, I could see the air tankers dropping retardant in the canyon. We got lucky – again! These air tankers were diverted from the North Fire, the one that started a day before at Emigrant Gap (Donner Summit). Our fire, the Sliger Fire, was hit fairly early with strong air power, although there was a serious concern for spot fires that kept us on our toes for three days. As of this post, the Sliger Fire is 85% contained.
While we were actively adventuring, I tried to add posts weekly, sometimes more often if there was something noteworthy. Now that we're home I anticipate writing less often, until we get closer to next year's launch. We have eight months to prepare. Pete has two more surgeries, this time "electively." (I will elaborate in the next post.)
Keep us in your thoughts as we continue to heal and to prepare for Phase II of our boating journey.